Synthesis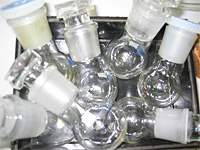 Preparation of materials having tailor-made optoelectronical, electro-optical, sensory, thermal or electrical properties for application in microsensorics, microsystems technology and micro- and nanolithography
Development of sophisticated synthetic strategies for construction of multifunctional molecules and polymers at lab and small technical scale
Heterocycles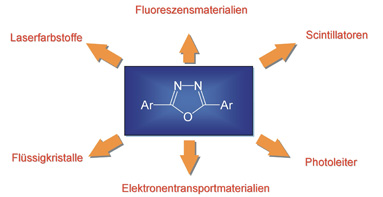 Synthesis of aromatic heterocycles, especially N-heterocycles
Structural investigation of aromatic 1,3,4-oxadiazoles in solid state and solution, at interfaces, as liquid crystals or under high pressure
Substituted thiophenes and pyrroles
Functionalized indoles und indolo[3,2-b]carbazoles
Development of materials for microsensorics
Elaboration of new oligomeric and polymeric materials for application in organo-based microelectronics an optoelectronics
Contact person
Dr. Thomas Köpnick
phone: +49 33 28 - 33 46 16
Fax: +49 33 28 - 33 46 10
E-Mail: koepnick@idm-teltow.de
Organic fine chemicals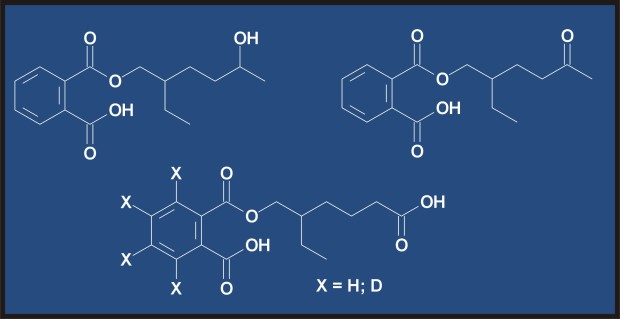 Synthesis of metabolites of exogenous compounds (e.g. plasticizers, UV-absorbers in sunscreens, antioxidants, mycotoxins, perfluorinated emulsifying agents) as reference standards in human biomonitoring.
Oxidative metabolites of exogenous compounds are indispensable reference standards in toxicological analysis for determination of the body burden of ubiquitous exogenous compounds in the general population in order to reveal potential health risks at an early stage.
The IDM is skilled in the development of efficient preparation procedures for metabolites of exogenous compounds found in commercial products. On request also reference samples labeled by stable isotopes (2H, 13C, 18O) can be elaborated.
Contact person
Dr. Hans-Detlev Gilsing
phone: +49 33 28 - 33 46 14
Fax: +49 33 28 - 33 46 10
E-Mail: gilsing@idm-teltow.de
The introduction of fluorine atoms or fluorinated functional groups into organic compounds initiates interesting changes of physical and chemical properties which can be exploited for application in communication technologies.
Synthesis of fluorosurfactants
as tailor-made surface-active agents
as materials switchable by light

Synthesis of partially fluorinated polymers as liquid crystalline, non-linear optical or optically switchable materials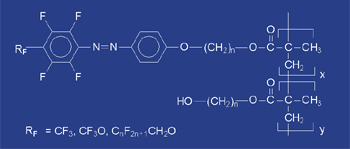 Investigations for modification of solid state surfaces in order to enhance hydrophobic or hydrophilic properties and for adjustment of adhesion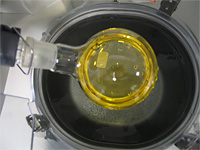 Polymers
Synthesis of polymers with high thermal stability by polycondensation: polyimides, polychinoxalines, polyoxadiazoles, polybenzoxazoles and others
Development of polymerization procedures for construction of optically addressable polymers using side chain engineering
Preparation of polyacrylates and polymethacrylates
Elaboration of conditions for polymer-like reactions
Synthesis of electrically conductive polymers (polythiophenes, polypyrroles, polyanilines)
Contact person
Dr. Thomas Köpnick
phone: +49 33 28 - 33 46 16
Fax: +49 33 28 - 33 46 10
E-Mail: koepnick@idm-teltow.de
Synthese, Synthesen, Heterocyclen, Organika, Polymere, Photoscience, Mikrosensorik, Lithographie, Methodenentwicklung, Forschung, Chemie, Labor, Analythik, Analyse, Dünnschichttechniken, Nanotechnologie, Rastermikroskopie, Spektroskopie, Fluoreszensspektroskopie, Polymerverbindungen, PPA, NIR, Polarisation, NBR, mechanochrome Materialien, Monophthalate, Weichmacher, Photoresiste, Biomarker, Biomonitoring, Isotopenmarkiert, Auftragssynthese, Syntheseentwicklung, Kontaktwinkelmessung, Oberflächencharakterisierung, Referenzverbindungen, Referenzstandards, Lichtmikroskopie, UV-Stabilität, UV Stabilität, UV, Stabilität, Fluoreszenzfarbstoffe, Materialermüdung, Doppelbrechung, Polymersynthese, Photoaligning, Polymerpolarisator, GPC, Metabolite, Polykondensation, Synthesis, chemistry, analysis, optica, applications, science, heterocycles, organic fine chemicals, polymers, expertise, microsensorics, lithography, development, IDM,Institut für Dünnschichttechnologie und Mikrosensorik, Teltow, Berlin, Seehof